The last couple of days, Liz and I were busy running errands in my hometown for a change. The mere fact of doing just that puts me in direct conflict of where my androgynous self still goes. In rapid fire order, we went to three places and I received
no
negative attention-
none-nada
. My hair was down, I was wearing minimal makeup, a tank top, flip flops and a pair of my distressed jeans rolled up. No big deal to get ready and go.
Needless to say though, I still felt trepidation. The places we were going were the spots where I have received "push-back" in the past when I visited as a cross dresser, androgynous or feminizing transgender woman. Turns out, I was wasting my energy.
When we got back home, I had a chance to talk about it with Liz. As I have always written here in Cyrsti's Condo, she has taken me for granted as a trans woman from the first time we went out on a date. Her only drawback is she expects the rest of the world to do the same. This time they did and she said did I hear what the one guy at the store called us- "Ladies." I laughed and said, I am deaf but not deaf enough to hear
that!
Look, I'm not saying my future as a woman in the world is coming full circle but every once in awhile, I get a glimpse that indeed it is. Then I wonder do I become a victim of my own words and thoughts? To put in the terms of our culture-if I
do
begin to present and or pass as whom I always wanted to be, will I become a hypocrite and go stealth?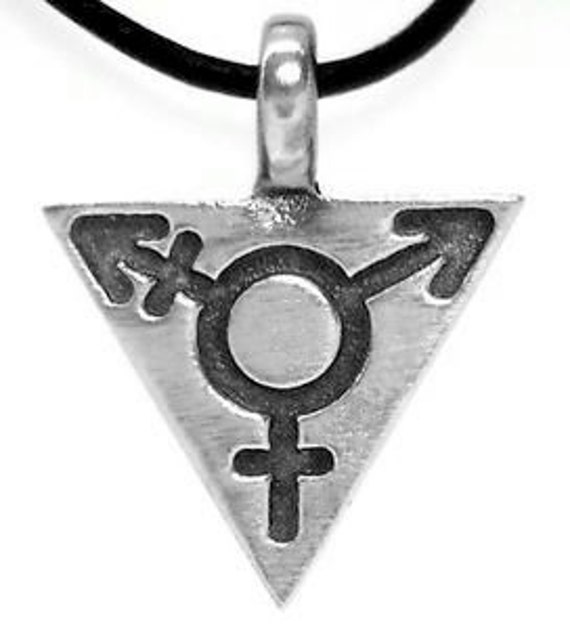 I'm thinking yes and no. Yes because I
conveniently
"neglected" to wear my "transgender symbol" necklace. (left) In my "pea brain" that is a step towards stealth because I didn't want to explain to anyone what the symbol meant.
No, because in reality, I have a whole lot of life to live and a huge amount of "blind curves" ahead. So the incredible freedom and accomplishment of the other day could be as fleeting as the beautiful summer day we are having.
One way or another though, I'm sure I can still find plenty of transgender issues to be involved with.