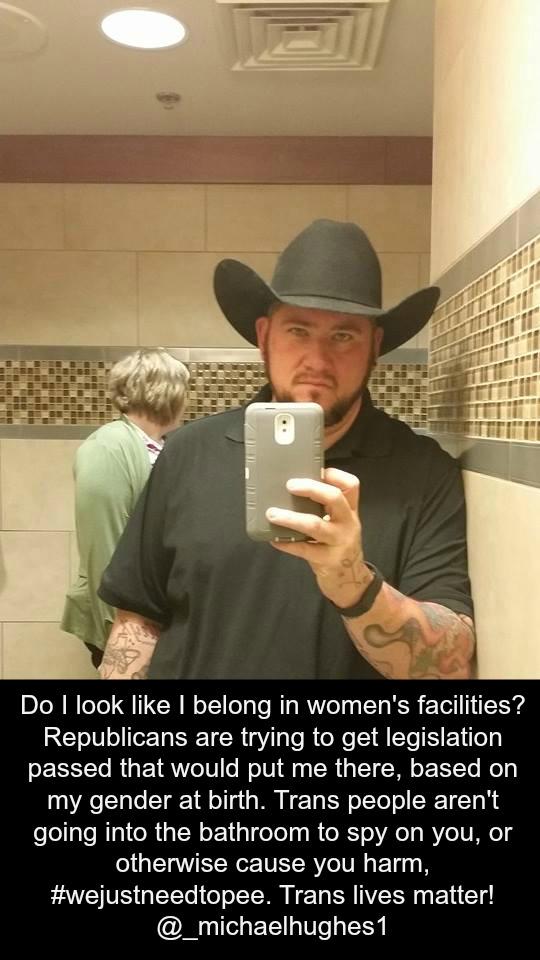 As soon as Indiana calms down, then of course the discriminatory bigots are busy tossing restroom bills at us as fast as spring training baseballs. Thanks to Bobbie for passing this along:
Not surprisingly the "excuse" of protecting women's restrooms from sexual predators is unfounded. In fact,
there are zero reported cases of this happening. However, Arizona, Florida, Texas and Kentucky are considering "bathroom bills"
which restrict transgender people from using the bathroom in line with their gender identity,
But these bills are not protective. They're vehicles for instilling fear of trans and gender-nonconforming people.
Of course they are and again go way past the trans man we see on the left. Most certainly his passing privilege would make it easier for him to gain stealth bathroom privileges. Would you question his gender in a man's room?
For the rest of us though, it's a simple matter of waiting for more and more unisex bathrooms showing up and/or being a good citizen when we are forced to use the indoor bathroom.
For more, go
here
. (NO! not really!-I already cleaned up after the dog!!!)